Aircraft in Pixels 2 | Albatros D.V
Version 0.0.8 Update -- Photo Studio and More
---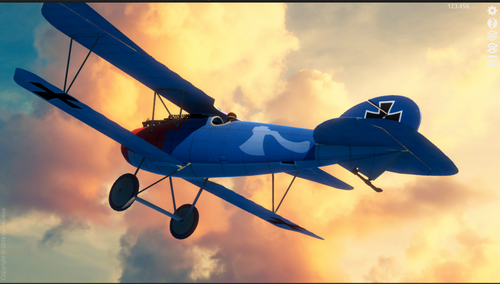 Lots of great additions with today's update, 0.0.8.
First, the boring stuff -- I have eliminated all the places where "you can't get there from here" without quitting and restarting. All the main interactive scenes now feature a "hamburger" menu with options to Quit, go back to the Main (start) scene as well as save your work. In some instances there are more options -- more on that below.
Second, light direction is now user controllable in all the scenes as well. Holding Shift while using the arrow keys will rotate the light around its axes. A handy arrow pointer will appear in the upper right hand corner to help you see exactly how it is oriented.
Finally, the biggest change is the addition of a photo studio where you can capture images of your completed model against a variety of stunning backdrops. You can choose from over 50 camera post presets, to capture just the mood you are after. Access the Studio from the painting screen using the hamburger menu.
On MacOS, all images generated by the SCREEN CAP button end up in /Users/username/Library/Application Support/com.whateverdevelopsllc.aip2/screenshots. On windows, you can find them in C:/Users/username/AppData/LocalLow/Whatever Develops LLC/Aircraft in Pixels 2_0/screenshots.

The current photo studio is just the tip of the iceberg as to what is planned, but I think you'll find that it is pretty easy and fun to create some stunning aerial pics of your Albatros dancing in the clouds...
Enjoy!
--Bo
Files
aircraft-in-pixels-2-osx-beta.zip
180 MB
aircraft-in-pixels-2-windows-beta.zip
171 MB
Get Aircraft in Pixels 2 | Albatros D.V